The Right Solution for You.
Our managed services offer a wide variety of flexible, mix-and-match options that are tailored to your needs and your budget. With i3 you can concentrate on your core business knowing that your technology infrastructure, applications and data is safe, protected and available.
Whether you are a small or large organization, you will get the kind of attention and care from us that will span your complete information technology footprint. Our solutions are scalable to meet your needs. Networking, websites, hardware, mobile, off-the-shelf and custom applications are all customized for your requirements, as we help guide you and plan with you exactly what you need.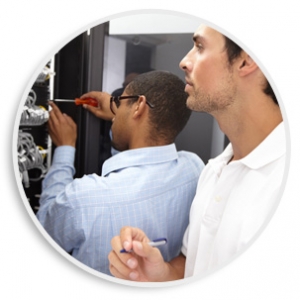 With i3 Managed Services you can benefit from:
Technology Assessments and
Roadmap Planning

Remote Monitoring

Disaster Recovery

Help Desk

i3 Bundles
The i3 Bundle – Our Bundles for Business Help Manage Cost
Managing an office with a limited budget and minimal staff can be difficult and even more difficult when it becomes too expensive to purchase and manage your technology needs.
With this in mind, i3 has designed a solution for you that provides hardware, software and 24-7 support all bundled under one price.
Select the package that suits you, or work with us to design a custom offering that is an exact fit. With i3, we make your technology decisions simple – enabling you to focus on building your business.