At i3, partners are one of our greatest strengths. We partner with industry leaders, and together we provide technology expertise from our team of certified experts with many years of IT experience to bring you innovative solutions to meet today's business challenges, stay current with both business and technology trends, and establish a solid foundation for a more effective and profitable future.
Our innovation has been recognized and rewarded by the industry.
And we're pretty proud of that.

As an authorized Microsoft Partner, we are able to provide all of our clients with a very unique set of offerings. Working hand in hand with Microsoft, our combined innovation, expertise and forward thinking strategies allow us to deliver cutting-edge technologies and end to end solutions that work, helping clients achieve their business objectives.
We follow a strict set of rules to remain at the top of our game. This means i3 experts have been trained, tested and have passed all of the qualifications that make us elite and one of only a handful of partners fully capable of understanding and implementing the latest technology.

Education for Better Health is more than a company tag line. For more than 40 years, Milner-Fenwick's corporate mission has been to inform and guide patients toward better health through multi-media education. With an exclusive commitment to the healthcare market, Milner-Fenwick offer more videos targeted to specific medical conditions and procedures than any other publisher in the industry.
In partnership with Milner-Fenwick, i3 Solutions Inc offers a library HealthClips®, which feature over 500 clips averaging three minutes, is specifically designed for web streaming, video on-demand systems and kiosks. Working with Milner-Fenwick, i3 provides the best-in-class education feature on Panacea™ Point-of-Care Terminals for information provision to patients, increasing patient satisfaction and engagement.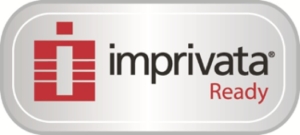 Imprivata® improves provider productivity for better focus on patient care. They are a leading provider of authentication, access management and secure communication solutions for healthcare. i3 Solutions Inc utilizes Imprivata to provide access to patient records at the bedside through Panacea™ Bedside Terminal. This leads to improved productivity for hospital staff and improved patient experience as care staff can spend more time at the bedside.

Dot by Dot LtD is a partner and distributor for Panacea™ Bedside Solution and is a business and technology solutions provider located in Athens, Greece, defined by innovation and desire to improve the way the world moves on.
Dot by Dot designs, develops and supports cutting-edge technologies and processes for its clients relying on highly qualified, talented and dedicated professionals and leveraging innovation culture and passion for quality.
Focusing on eHealth and mHealth solutions Dot by Dot has delivered pioneer software products and IT services since 2012. Dot by Dot's vision is to contribute to leading healthcare experience for patients and providers into a new era by optimizing hospitals, extending it from hospitals to homes, and redefining it into a collaborative healthcare culture.