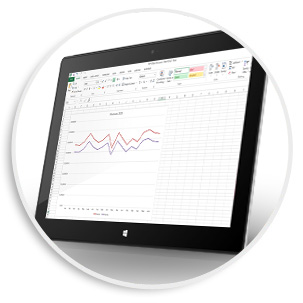 Panacea™ Technology
Panacea™ has been developed with Windows embedded technology. Many Hospitals in Canada and around the world rely on Microsoft technology for their software program needs. Panacea™ on Windows Platform offers more flexibility and interoperability than any other system. Microsoft based systems have an increased ease of use, a much larger selection of software, better hardware options (with support from many manufacturers) as well as a great support community due to the large market share.
A cloud based solution, Panacea™ provides a robust system backup and disaster recovery procedure. With the use of a back-up server which receives and stores all critical data from the main server, the disaster recovery has seamless transition at the back end and to the patient.
The solution adheres to strict privacy standards where all clinical data (i.e. Citrix server access) connections are highly encrypted. As well, in collaboration with Hospital staff, an authentication process is developed to allow controlled access to valid groups of users with appropriate permissions.
Panacea™ follows security standards and listens for HL7 messages which complies with all or most Abstract Data Type Facility Systems for routing secure data over the network. Panacea™ also reduces the risk and impact of security breaches by blocking malicious Internet connections. Panacea™ blocks known and potential threats by malicious domains. In the event of a possible security breach, Panacea™ will be rebooted and any unwanted changes will be removed from the system. Restoring the device to its original state.
Integrated Healthcare Technology
Panacea is a cloud-based, wireless and secure solution built on Microsoft and the Windows operating system. Requiring less hardware on site and providing a solution that is faster to implement, lower cost and easier to maintain. Panacea can scale from a budget system to a fully integrated system using cable feeds and content libraries already available in hospital. It reduces total technology costs for infrastructure and services in patient rooms. Panacea is a long-term protection of capital investment in the facility.
Technology is an integral and fundamental part of success in healthcare processes. Panacea will enable the hospital to leverage its potential for delivering higher quality care in increasingly efficient ways through the use of IT and process redesign. This goes beyond advanced clinical systems and includes additional integration between IT, medical, communication and building technologies to create a real-time hospital information environment.
Panacea software solution is hardware agnostic and is delivered with medical grade hardware devices. The solution's delivery on medical grade devices provides infection control measures within the hospital environment. For more information on hardware options, click here.
Real-time Reporting
Administrators can have access to an executive dashboard along with detailed reports showing service usage, trends and up-to-date financial information providing business intelligence in real time. Each bedside terminal also creates its own log files which can be monitored to ensure optimal performance within the network.
Increase revenue and Reduce Costs
Panacea provides a revenue stream for the hospital where revenue can be collected by charging patients for entertainment services. The hospital can also increase intra-hospital business sales through advertising on the terminal. This space can also be used to promote local businesses within the city.
With the ability to access patient records and other hospital workflow applications right at the bedside, the hospital reduces overall technology costs through consolidation of devices, including computer on wheels/ work station on wheels.
Benefits of Panacea Point-of-Care Terminal
Hospital Efficiency – Improve hospital workflow by refining the process – Panacea allows you to build and improve on today's processes for a better tomorrow.
How do we achieve this?
Checklists for housekeeping
workflow data sheets in digital format
Patient revenue – current solution providers give the hospital 15% – 20% of the revenue- With Panacea technology, you can receive 100% of the patient revenue generated. This proven solution has also shown high uptake rates from 27% – 75% in remote areas
Advertising/Foundation – Panacea can be used for advertising businesses within the hospital as well as local community. The advertising space can also be used to promote the Hospital Foundation which will help increase donations.
Advertising options:
Hospital Foundation
Corporate Advertising such as Pharmaceutical advertising.
Hospital Businesses such as hospital gift shop
Local Community such as local taxi provider