The Beryl Institute defines patient experience as, "the sum of all interactions, shaped by an organization's culture, that influence patient perceptions across the continuum of care." In their paper titled Patient Perspectives on Patient Experience 2018, patient experience is highly influenced by people related functions; more than place or process experiences. It is the people encounters within healthcare that have the greatest impact on patients and leave lasting impressions.
Yes, Panacea™ helps improve the place and process experiences for patients through on-demand entertainment and patient-controlled access to food ordering, room environmental controls, and more; but, Panacea™ also improves the patient experience through our managed services staff, namely our Customer Service Representatives (CSRs). Panacea™ CSRs are our front-line staff providing important interactions with patients and their families. Not only do our staff help patients navigate the system and process payment, they are also a friendly face and a kind interaction in the unfamiliar setting of a hospital. Sometimes it's the smallest gestures that have the most memorable impact on a patients' hospital stay. Trisha Funk, our Customer Service and Sales Manager at the Abbottsford Regional Hospital and Cancer Centre, shares the value our team adds to the patient experience:
"I feel that my job is about more than just selling entertainment services, but rather enriching a patient's stay in general.  It is difficult to see the families and patients on a regular basis and not develop relationships with them.  Sometimes people need somebody to empathize with them, or just to listen when they are going through a very vulnerable or difficult time.  There are patients who are lonely and stopping in to chat with them on a daily basis brightens my day as well as theirs.  I have shared many laughs with patients and their families, as well as many tears.  I find it very rewarding and fulfilling, and I feel like I make a difference here."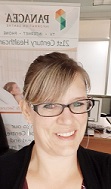 Thank you Trisha for your continued dedication to improving the patient experience! Each day you're truly making a difference in the lives of patients.
We'd love to chat more about how we can improve the patient experience at your facility.
Reach out today!